Informational Website for The 8th US-Japan Joint Seminar on Nanoscale Transport Phenomena
Conference Outcomes
(Note: You may need to clear your web browser's cache and/or refresh this page in order to view the most recent updates)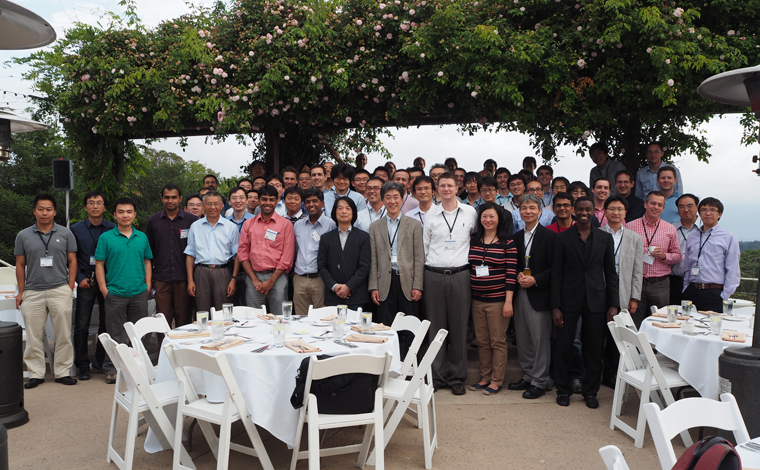 (click picture for full resolution file)
Videos of Talks (updated on December 8, 2014).
Survey Results (updated on September 19, 2014).
---
Conference Logistics
July 13 - 16, 2014
Chaminade Resort
Santa Cruz, CA
Weather: Daytime Highs ~65 - 70 F (18 - 21 C); Mornings & Evenings ~55 - 60 F (13 - 16 C).
Registration for invited attendees: https://www.regonline.com/USJ2014
Conference Email: usj2014@me.berkeley.edu
Abstracts (Template). If you have not already done so, please email your abstract to the conference organizers at usj2014@me.berkeley.edu.
---
Updates Prior to the Conference
Updated Program with Abstract Book (updated on July 6, 2014).
Call for Papers for a Special Issue of NMTE (updated on July 6, 2014).
Local Transportation to/from Airports (updated on July 2, 2014).
Poster Guidelines (updated on July 1, 2014).
Poster width must be 3' 8" (112 cm) or less. Height has no restrictions.
Posters will be tacked directly to the walls of the room. Pins will be provided. No easels or separate poster boards.
You should install your poster anytime before the poster session at 7pm on Monday evening. To facilitate this, the poster room should be open all day on Monday.
Posters may remain up on Tuesday and on Wednesday morning.
Posters should be removed before you leave the conference, and no later than Wednesday lunchtime.
Any additional questions about the posters may be directed to Zhen Chen (zhenchen@berkeley.edu).
---
-The Organizers
Chris Dames
Pramod Reddy
Hirofumi Daiguji
Yuji Nagasaka